9 Things That Are Surprisingly Cheap in Korea
Although department store products, ritzy bar tabs, and imports like fruit tend to be on the pricier side in Seoul, the city is full of affordable goods and services for the budget traveler. So, what's cheap in Korea? Read on to find out.
Our guide to finding things cheap in Korea!

Food
Bungeoppang, a sweet red bean-filled pastry
Everybody's gotta eat! Seoul is a foodie's dream, as it has everything from traditional Korean fare to designer dessert concoctions such as Remicone's Thunder Bomb. While the more exotic options usually come with higher price tags, standard Korean restaurants are fairly cheap. At most casual restaurants, you can have a hearty meal of meat, such as samgyeopsal or galbi, noodles, or soup paired with various banchan for less than 10,000 won per person. Another bonus: tips aren't expected in Korea.
Cheap snack houses known as Bunsikjips (분식집) exist around Seoul as well. These places offer light Korean dishes such as dumplings, tteokbokki, sundae, odeng, and twigim for around 2,000-5,000 won each. Check out SeoulSync's review of Mapo Mandu, a bunsikjip chain.
Street food is also cheap in Korea and incredibly diverse— you can experience everything from kimbap to churros to glazed chicken in a waffle cone. Calories don't count when traveling or indulging yourself—eat up!

Korean clothes, shoes, and accessories

Seoul has an incredibly diverse shopping scene. While department store clothing is generally more expensive, you can find a wide range of cheaper made-in-Korea clothes, shoes, and accessories from street vendors, subway stations, and alleyway stores. Popular shopping areas for inexpensive Korean fashion include Dongdaemun's night market and malls, Myeongdong, Hongdae, Gangnam Station, and the area around Ewha University. Be aware, however, that many vendors will not let you try on clothes beforehand, and women's clothing is usually one size fits all.

Socks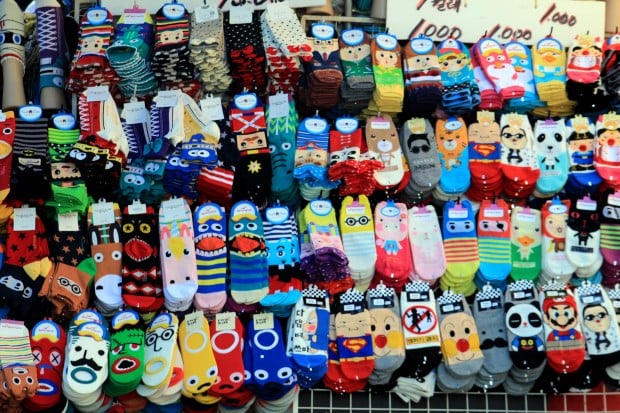 Korea has an abundance of cute, wacky, and inexpensive things for sale, and socks are no exception. You can easily find socks with a multitude of random designs, from Brad Pitt to sushi. Pairs of socks are often sold for 1,000 won by vendors around the city.